Zebras
Aktivieren / Deaktivieren der Zebrastreifen, diese weisen auf über- oder unterbelichtete Bereiche.
Farbbereiche: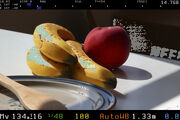 Luma: Zebras werden von Y-Kanal berechnet.
RGB: Prüft Überbelichtung für jeden RGB-Kanal.

Die Überbelichteten Kanäle werden in der entgegengesetzten Farbe dargestellt

(dh unterbelichtetes rot cyan wird Weiß angezeigt).
Es können Schwellenwerte für Unterbelichtung und Überbelichtung einstellt werden.
Note: when using the Technicolor CineStyle picture style, luma will have values between 16 and 255; therefore, you will have to set the underexposure threshold to 16 or greater.
Hinweis: bei Verwendung des "Technicolor CineStyle picture style", kann luma nur Werte zwischen 16 und 255 annehmen, daher muss die Unterbelichtungsschwelle auf 16 oder größer eingestellt werden.
Community content is available under
CC-BY-SA
unless otherwise noted.